Originally published May 2015
This extended weekend I experienced what is probably the most independent adventure of my life: I went to Barcelona, Spain with two friends. While at first this doesn't seem too crazy, because I'm on a study abroad in France, it's actually a big deal because this is the first time I've travelled without any adult supervision, with no one waiting for me in the destination country. This trip was planned completely independently, with everything (food, hotel, excursions) dependent completely on the three of us. I am still feeling pretty proud of myself.
Spain was absolutely amazing. I'm slightly ashamed because when we were first throwing around ideas for places to go to, at no point in time did Spain cross my mind. We were looking into Venice, Switzerland, Paris, etc., but not Spain. The reason we ended up with Spain at all was because Venice was too expensive and we wanted something cool for our first and longest weekend. How lucky I am that we did end up going to Barcelona, it was absolutely amazing, completely blowing me away.
The first day we visited El Raval in the morning. El Raval is unique because it isn't a monument, or a church, or a particular 'thing' to see. It is a neighborhood with a rich history. It used to be on the seedier side, but after the Olympics it was made nicer and ultimately safer. We wanted to go because we read online that it had a lot of individual shops, authentic restaurants, and a heavy cultural influence. I personally really enjoyed this part of the day because it was nothing like what I had visited before. It was almost exactly as advertised: there were tight alleys, small independent stores selling specialty goods, and restaurants of every kind. I feel as though on every trip I have ever taken I have avoided places like this, and stayed to the more famous, more touristy destinations. But I found it exhilarating to see 'real' Spain, to walk down streets for the sake of exploring, and check out the local attractions. I felt as though I was seeing a truer version of a city, and that is something I am appreciative of.
Later in the day we went to see the Sagrada Familia, my personal favorite portion of the trip. What I found initially exciting is that as you walk out of the subway stop, you don't initially see it. But as you turn around it is all you can see. I literally stopped and just stared. I was obviously expecting a cathedral, because I had googled it before hand, so I knew it was going to be good looking. I just had no idea how amazing it was going to be in person. It is, for starters, huge. On top of that, it's beautiful. The architecture is so unique, as sides of it are completely different. It's very dark and gothic on one side, and it blended effortlessly into a smoother, brighter side. And while initially it doesn't sound as though it should look good, that the difference is too strong, it just makes sense.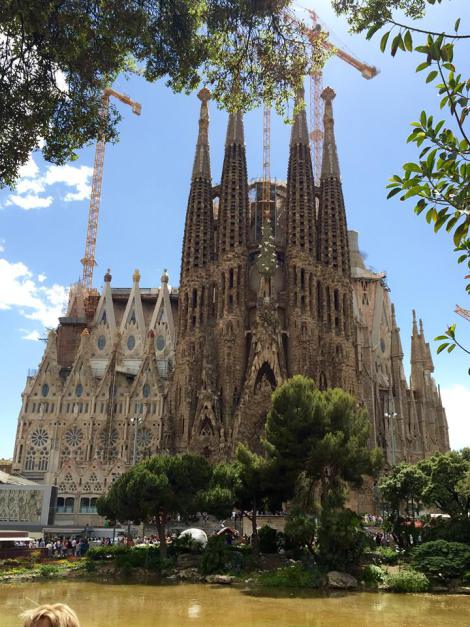 What I didn't expect was the interior. We had purchased tickets to see inside, and that was the best decision of the trip. I have been inside many cathedrals, churches, etc., some of which have been stunningly beautiful as well (St. Peter's Basilica for example). Yet the Sagrada Familia's interior might be my favorite to date. While there aren't tons of mosaics and tapestries, paintings and sculptures, the stained glass is unparalleled. On top of that, I had no idea there was even going to be so much stained glass. From the outside I couldn't tell that so much light was going to be shining through, and that is was going to make the room glow the way it did. The glass is a multitude of colors, and the effect was amazing. I tried to take pictures to show how fantastic it looked, but in all of my pictures I was unable to show just how ethereal the effect was.

After visiting the Sagrada Familia we went to the Park Guell, which was fun. We were able to have an amazing view of all of Barcelona (and stay in shape walking up hill after hill). It was fun exploring the park, and coming across some famous works and inspirations from Gaudi, the famous architect. It was nice and relaxing after being in the city for so long, and we were able to have a nature walk with an incredible view.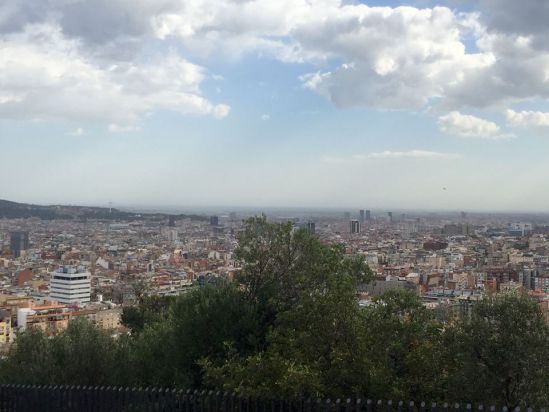 Our last day we were determined to have a completely low key day. Day one was all about seeing as many famous sites as possible, so we wanted to completely relax in opposition the next day. We decided to hit the beach, the first time I've done this in quite some time. It was nice, the weather was hot enough that being in a swim suit was comfortable, even though the water was a bit too chilly to swim in. After a bit on the beach we walked around and explored a bit, before settling on a nice dinner. Being so close to the ocean we heard that the seafood was the best cuisine of the city, so I had what was probably the best cod of my life for dinner. We went to bed super early so we were refreshed for our early morning flight.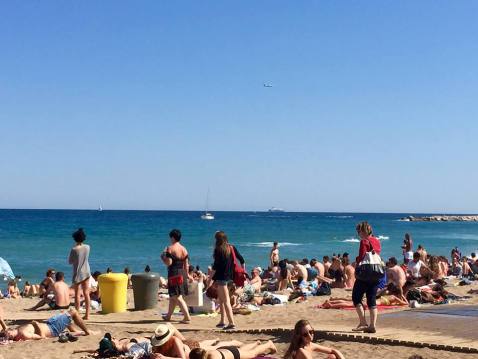 I had a wonderful time in Barcelona, and I definitely hope to go visit Spain again in the future. It was a beautiful weekend, and I could not have asked for anything more my first weekend abroad. Nevertheless, I'm excited to be in Lyon again, and ready to take on the work the week ahead will provide!