Originally published May 2015
And here we continue with the Boston events I have been lucky enough to attend, 'spring' (read as: winter) semester edition! Please see part one for the coolest events of my fall semester.
Movie Dates
I love movies. Back home I would go (frequently) to the movies just for the experience, less for the film. For some reason I just adore the movie theater. Yet I never went to the movies first semester. Thankfully second semester this was turned around. Maybe it was the cold, but for whatever reason my friends and I frequented the movies more often (it was a way to go out while still being warm). I was able to see The Longest Ride, Kingsmen, and Cinderella. All were pretty good, Kingsmen was my favorite, I saw it later when I visited home with my brother, but it was great to go to the movies again. The Loews Theater is also impressive, it's right outside the Boylston T-stop, and there is plenty of food surrounding the theater, though as a personal preference I would suggest Sal's for some killer pizza.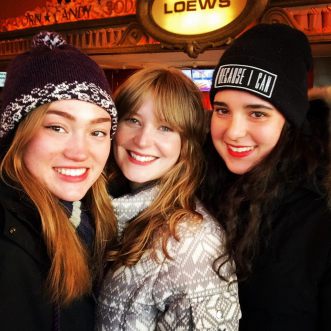 Northeastern University Global Summit
Something more academic that I went to this year was the Northeastern University Global Summit. I was actually part of the planning board that went into this event, but regardless it was interesting. Basically we focused on emerging markets, and had speakers come and talk about their view on emerging markets and how the work they do related to them. Two of the coolest parts in my opinion were the panel of medical personnel, where three speakers talked about the emerging markets in developing countries when it comes to health care, and the Vice President of OceanSpray, who talked about how each of the products OceanSpray makes has to be marketed differently depending on the market in which it is selling. Overall it was a pretty cool Saturday, I learned a lot, and it was very exciting to see all the hard work my team and I put into planning this event bring desired results. (If you are interested in helping next year, check out the new Emerging Markets Club come fall!)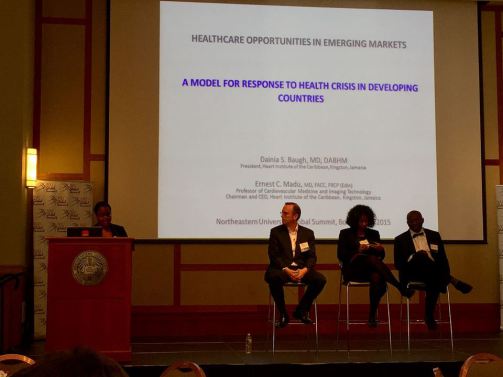 St. Patrick's Day Parade
As far as I can remember, I had never been to a big parade before. I had occasionally watched the Thanksgiving Day Parade, but never attended something as extravagant as the St. Patrick's Day Parade. I didn't have any intentions of going, but my friend from NUMA Ashley offered for me to go with her, and, wanting to spend extra time with her, I went. It was insane. I didn't really know what to expect, so it was crazy seeing so many people dressed in green clapping for everyone walking by. It's a very Boston event to go to so I'm glad I did, not to mention I have a fun picture of me with a St. Patrick's themed stormtrooper which I think would make any day a success.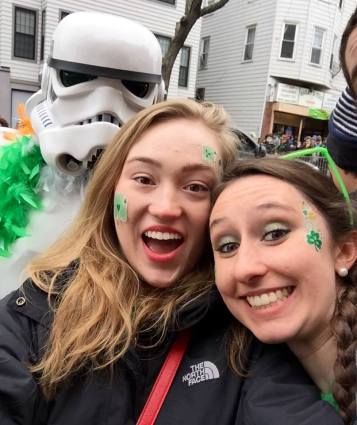 Boston Ballet
I was lucky enough to see the Boston Ballet perform again, this time 'Lady of the Camellias.' The last time I went I saw 'Swan Lake,' which was definitely more popular. When I saw that show I was sitting in one of the last rows of the middle section, and even from so far back I was blown away. I logically assumed that I would get a slightly better seat for 'Lady of the Camellias,' but I was completely blown away by the seats my friend Kelsey and I got. We were the sixth ones in orchestra! It was a beautiful show, and although I liked 'Swan Lake' better it was a very enjoyable show (especially with the extravagance of the  ballroom scene), and fun to experience it from so close.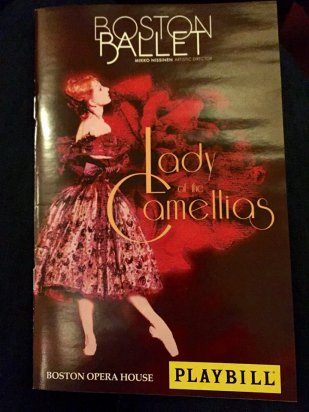 NUMA New Orleans
One of the coolest events I attended was through the school, but not in Boston. I was lucky enough to attend a conference in New Orleans with a club I'm involved with, NUMA (please read 'Last NUMA Meeting' for more info on the awesomeness that is this organization!) New Orleans was absolutely amazing, my aunt loves the city so I have heard about it but never been able to experience it before. While I personally don't feel as though I would ever want to live there, it was definitely a fun city to explore for a few days, especially when it was in the 70s and home still had snow on the ground!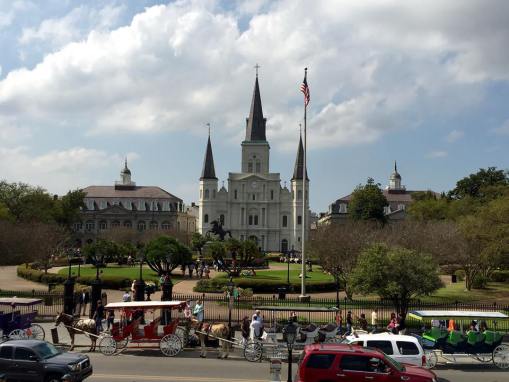 Springfest: Jason Derulo Concert
Something cool Northeastern hosts is Springfest, which is a week of interesting events leading up to a concert. I didn't attend any of the week long events, like Josh Peck coming to talk, but I was able to go to the concert. It was pretty awesome, the Knocks, AWOLNATION, and Jason Derulo performed. I went because one of my friends bought an extra ticket and wasn't going to use it, but I was glad I did after the show, and want to attend all future concerts. I never realized how many songs on the radio were Jason Derulo's, and he was a fun entertainer overall. It was also fun to see a ton of Northeastern kids packed in Matthews Arena singing along to their favorite songs, I could feel the school spirit!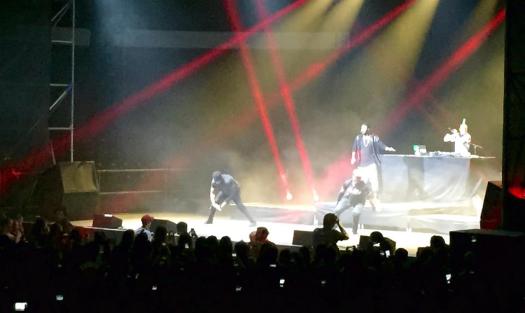 Museum of Fine Arts 
Yet again, I frequented the Museum of Fine Arts. My computer science class was right across the museum, so I liked having the opportunity to, after class, just pop by and check things out. My personal favorite of the semester was the Herb Ritts exhibit, which showed off some superb photography the artist had accumulated over his life. It was interesting seeing icons captured so beautifully in print. The museum also had an exhibit on Hokusai, including the famous 'Great Wave.' Although not my favorite artist overall, there was a fascinating part of the exhibit that showed how the 'Great Wave' was made step-by-step. It showed the way the wood was worked at every point, and how the color was added. It was pretty interesting to see how a masterpiece was developed, and the exhibit's set up was cool too, as each room was a different color that contrasted with the theme of that room.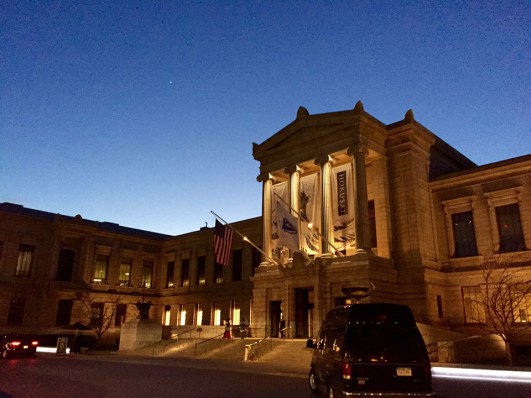 Shakespeare Fest in Cambridge
A few weeks back I was feeling the need to get out and explore, probably due to the warm weather being just so tempting. I decided that I hadn't properly explored places farther away from Northeastern's campus, so I hopped on the T and decided to go to Cambridge. I had never been, but according to friends it was a beautiful place with plenty of good places to eat, which was enough for me. I expected to just walk around the town and relax, but what I found was even cooler. It was the weekend of Shakespeare's birthday, so a local group was celebrating. Near the exit of the T station they were reading every one of Shakespeare's sonnets, and around local bookstores an acting group was putting on a performance of 'A Midsummer's Night Dream.' It was fun walking around the town following the play, while being able to relax in between each scene by exploring the cute town. This was one of my first solo trips exploring, and it definitely produced exciting results!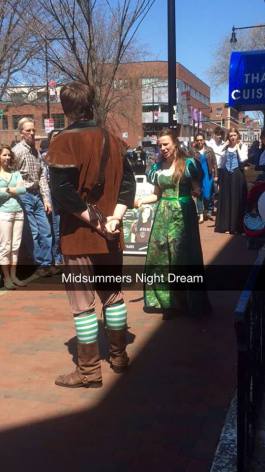 Red Sox Open House
Just this past weekend the Red Sox had an open house of Fenway, where you could walk around and tour free of charge, and it was pretty interesting. I have been to one game at Fenway before, but it was just as exciting (if not more) to do this! I went with some of my friends from NUMA, and the five of us explored pretty much every spot we could. We started out by walking around the field, and then were able to sit in the dugouts of the team. We then were able to see the clubhouse, and other areas that are so under wraps that we weren't allowed to take pictures. We were also able to see in to a box, which is arguably nicer then my dorm room, if I had to pick I would live there. My favorite part hands down though was walking along the Green Monster. We were able to sit and take pictures, and just relax on one of the most famous parts of the ballpark – it was so freaking cool. I'm not the biggest baseball fan, I'm more interested in football, but this open house was absolutely fascinating and makes me wish I went to a game this year!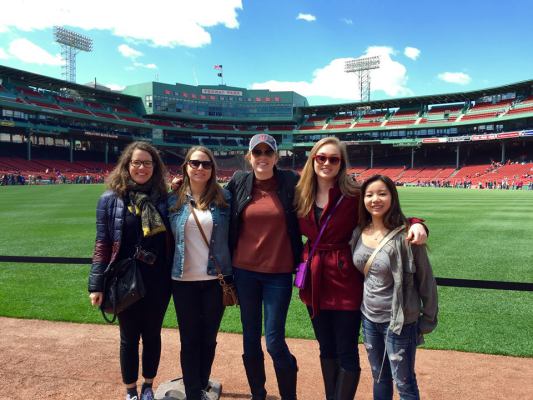 So here we have it – part two. Although at times it felt like I was snowed in thanks to the millions of inches of snow, I'm glad I was able to get out enough to enjoy what Northeastern and the city of Boston have to offer!