Originally published April 2015
Everyone told me that when I was getting prepped for Northeastern that I was going to have so many opportunities to do cool things. I was going to Boston! First time at college! But when I asked people to describe all these amazing things to me, no one had any definite answers. Just vaguely fantastic events. So here I will try to describe actual cool events/things to do in Boston (in two parts!)
Museum of Fine Arts
If you are a college student, chances are you can get in free to a ton of museums. My friends and I live a total of five minutes from the front door of the MFA, so it makes sense that this is the one we would frequent most often. We found that the MFA is a fantastic place to go to have fun and explore, especially in the off hours. Earlier in the year we would spend our Friday nights exploring different sections of the museum, as it is essentially empty later in the day. This fall the museum had a Jamie Wyeth exhibit that was interesting because he's from around me, so a ton of his paintings were of the county I live in. There was (and I believe still is) an exhibit on glamour and television, which features dresses from older black and white movies. This was potentially my friends and I favorite exhibit. What I find coolest about the exhibit is that we were lucky to find it, knowing about it only because a friendly (or supremely bored) security guard gave us a tour of the things he thought were most interesting in the museum!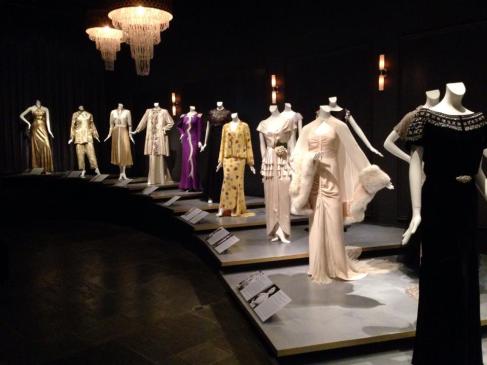 HerCampus Fashion Show
Earlier in the year around college week there was a fashion show around Emerson College, right outside Boston Common. It was a blast because there were companies like BareEssentials giving out free product, Tresemme doing people's hair and, of course, the fashion show itself. The clothes weren't exactly my style, but it was fun seeing a fashion show so close up, and on top of that having local performance groups from Boston colleges perform in between the breaks. It was a good way to get out while still being in my comfort zone, and a total girly event to start some bonding with my new friends.
Maine with Kelsey
One of my favorite things that I couldn't forget to mention wasn't even in Boston. My best friend lives in Maine, and she was sweet enough to invite me home with her Columbus Day weekend, as I was slightly depressed that everyone was going home and I was not. Maine was amazing, but I think that's just because the Barley family is amazing. We visited Portland, explored a lighthouse, went apple picking, carved pumpkins, went around on a boat, and even attempted to be Rapunzel from Tangled by sending off paper lanterns. I had never done half of the things I did that weekend prior to this visit, and it was absolutely amazing. My personal favorite was apple picking, but spending so much time with my best friend was the clear highlight of the trip.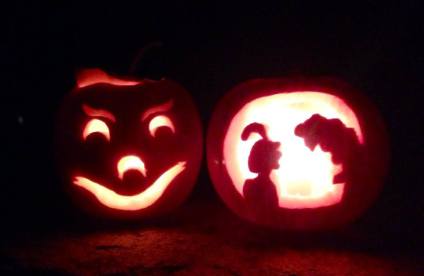 Neil Patrick Harris Book Signing
I'm what you may consider a How I Met Your Mother fan, so of course I am a Neil Patrick Harris fan (also his openings for the Tony's are absolutely perfect.) So when a friend told me that he was in town promoting his autobiography, and for the price of the book plus ten dollars extra I could go to his book signing of course I went! It was pretty cool getting to meet him, and the book itself is hilarious. The absolute best part was that I was with friends, one of which is named Ted. For anyone who hasn't seen the show, Neil Patrick Harris's character introduces his friend Ted as 'haaaaaaaave you met Ted?' and then proceeds to walk away. I am proud to say that after Neil Patrick Harris signed my book I introduced my friend Ted in that exact same way and then walked away, just as his character does. It was so much fun, and my friend Ted said that he enjoyed it almost as much as I did, and that Neil Patrick Harris seemed to find it amusing as well!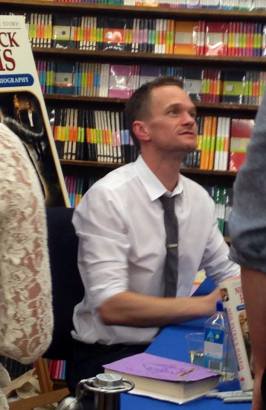 Boston Ballet
One of my favorite events all year was probably seeing Swan Lake as performed by the Boston Ballet. For students rush, tickets are only $20 if you show up two hours early and are willing to wait in line. My roommate and I went pretty early and were first in line, so we ended up getting pretty decent seats for their performance of the Swan Lake. I vaguely knew what the ballet was about because I had heard references in other television shows/movies/books/etc., but I didn't really know the details. This ballet was one of the most beautiful performances I have ever seen. I used to dance in middle school so I have always enjoyed ballet and dancing, but I have never seen something as amazing as I did then. I can't even use words to truly explain how breathtaking the Black Swan was, or how beautifully the last scene began. I am so glad I went, as I have now realized how much I love the ballet and plan to continue attending in the future.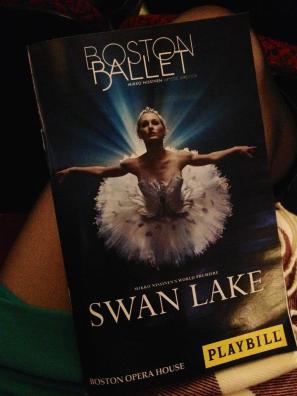 Christmas Tree Lighting at Faneuil
My friends Kristina and Christie and I were hanging around the dorm and kept hearing about a Christmas tree lighting, but didn't really know what it was about. When we googled it and found that there was a lighting and lights show at Faneuil Hall we decided to go because it sounded fun and we hadn't made other plans. I am so glad that we did! Faneuil Hall was absolutely beautiful all decked out in lights, and it set the mood for the upcoming holiday season. We arrived crazy early (because we didn't actually know when it started…) so we were able to be the people closest to the tree, even if it meant standing in the cold for an inordinate amount of time. When the countdown happened and the tree lit up it was great, but what was even cooler was that Christmas songs started playing and the tree's lights and the lights up and down Faneuil Hall were set to flicker in time to the music. When snow-like confetti started blowing around as well, it was nothing short of magical.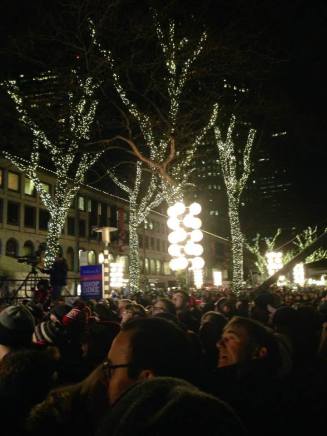 Palm Dates with the Girls
To celebrate the end of the semester three of my closest friends and I (lovingly known as the Fab Four) went out to the Palm, a steakhouse in the financial district. It is a nice restaurant so the four of us got dressed up and celebrated making it through our first semester, and I loved every minute of it. We were able to just sit, relax, and enjoy wonderful food before we all separated for the month long break. Nothing could have made the semester's end more perfect.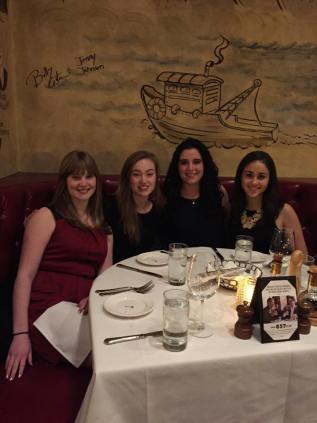 So there you have it – first semester in a nutshell. If you are looking for cool events, or promising people that there are fun events to attend in Boston, here are some actual events to reference or try to do yourself! Keep an eye out for my next blog post which will cover all the fun events I did this winter/spring.