Originally published September 2015
People can be inspiring in many ways. It could be by building a company that inspires a movement, like Steve Jobs; by standing up for your beliefs, even at the risk of your own life, like Malala Yousafzai; or by refusing to accept defeat, and creating something beautiful in the process, like J.K. Rowling. While some people are inspiring for the things they create, the movements they start, or the strength they show, others are inspiring because they inspire others. Kate White, author of "I Shouldn't Be Telling You This," was that for me.
When I read "I Shouldn't Be Telling You This" this past week, it wasn't for the first time. In the beginning of my freshman year at Northeastern University I wanted to start reading books on business, because I wasn't sure how I was going to fit into the business world, or how I was going to be successful in it. By chance I came across her book, and her book inspired me.
White is the epitome of 'having it all.' She was the editor-in-chief of the magazine Cosmopolitan, followed her passion and now writes mystery novels, all while marrying and having two children. When I think of Kate White I imagine her as not only successful and knowledgeable, but as the "fun, fearless, female" Cosmo is designed for. Kate White is the type of woman I want to become, and because of my admiration of her I decided to finally give a book review of her book, "I Shouldn't Be Telling You This."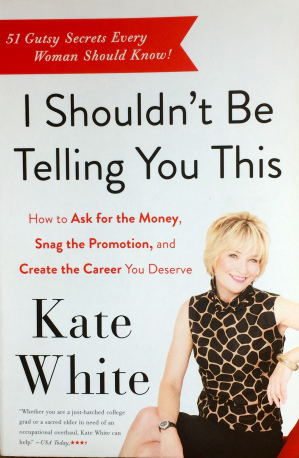 What I Liked
Being a Northeastern student about to search for her first co-op, the idea of applying and interviewing for a job is both exciting and terrifying. Thankfully, White dedicates a chapter to "How to Nail a Job Interview" early in her book. White's approach to her advice is interesting because she talks from both angles: advice from when she was looking for a job, and advice from when she was hiring for a job. Some of my favorite advice from her book is in this section, with suggestions for body language that covers the best angle of the chair to sit in (30 degrees), the most important follow up techniques (send an email quickly!), and making sure you express how much you want the job ("it's the hot tamale that wins the day, not the girl as cool as a cucumber"). White makes her advice fun and easy to comprehend, so that more people will understand its importance.
Something that I enjoy that goes beyond the book itself is how White is consistently developing her advice. She dedicates a chapter to developing your gut instincts, titled "Develop a Golden Gut." By itself this chapter is fantastic. White covers how to know when your gut is warning you about something, how to sharpen its skills over time, and how to know when to risk something on your gut instinct. What I like also however, is how White is consistently adding to sections of her book, but in another format: LinkedIn posts. Being a Kate White fan, once I figured out the basics of LinkedIn I decided to follow her so I could read her updates. Thankfully I did, as she expands on sections of her book by writing posts like "Why It Pays To Be a Little Paranoid at Work," a blog post that takes similar themes from her book and approaches them from a new angle.
One of the best things about "I Shouldn't Be Telling You This" is the way White organizes her advice. Rather than forming a single narrative, she employs short chapters filled with lists, bolded sentences, and advice italicized for emphasis. It is reminiscent of Cosmopolitan, the magazine White was editor-in-chief of for so many years, and because of the formatting the book becomes more engaging. Much like with Cosmo, White is able to help the reader digest information quickly and with more comprehension. Rather than one long chapter filled with advice, White clearly defines what she finds important, and makes it so you as the reader know what is important to take away.
The more I read other books focused on business, the more crossover I see in advice. This isn't necessarily bad, as each author presents his or her material in a slightly different way. One piece of advice White gave that particularly stood out was when she said, when concerning promotions and raises, "make sure you deserve what you're asking for." This is remarkably similar to Licht's advice in "Leave Your Mark," where Licht clarifies that just doing the job you were assigned and not going above and beyond does not qualify you for a promotion, you need to show initiative and drive to deserve one. I like how there was overlap, as White's advice only reinforces what I took away from Licht's book.
As I've mentioned a few times before on this blog, I have an interest in personal branding and branding as a whole. Therefore it should come as no surprise that one of my favorite portions of White's book was the chapter titled "12 Ways To Get Buzzed About." This section focused on ways to promote your own personal brand, but something unique about White's list is that it is instead of giving specific examples like other articles on self promotion, she dives deeper into root issues, such as 'don't be a whiner' and 'develop a signature look.' I found that White's advice wasn't so much focused on getting people to focus on you, but rather what to do to improve yourself, which would then have the effect of getting more notice. White focuses not just on the superficial presentation, but on the longer lasting character traits.
What I Didn't Like
While I did absolutely love Kate White's book, there were a few things that I wasn't particularly fond of. For starters, I felt as though the same examples were used repeatedly throughout the book. Now I don't have a problem referencing Amy Schumer, as White does, multiple times, as Amy Schumer is hilarious and a fantastic role model. But the sheer amount of times Schumer, Sheryl Sandberg, the Clinton family, and Paperless Post were mentioned was astonishing. While these four are fantastic examples for some of White's points, I would recommend adding more variety when referencing how people and companies prove her points.
Another thing is, much like with "#GIRLBOSS" and "Leave Your Mark," White's book is primarily for females, and I would argue only for females. While "#GIRLBOSS" and "Leave Your Mark" are female centric, "I Shouldn't Be Telling You This" alienates men from the introduction, when White talks about panties. White's focus on women could work in her favor however, as she focuses strictly on women's issues, such as maternity leave and fashion tips, which a book not primarily focused on women would lack.
Finally, I wish the cover were more exciting. While White is a beautiful woman, something I have liked about previous books I have read is that the covers draw you in. White's cover features her sitting and looking like a woman that has it all, which is beneficial for a book that is advertising career and life advice, but as the ex-editor of Cosmo, and having a book series with interesting covers, I would have liked to see "I Shouldn't Be Telling You This" have a more enthralling cover, one as spectacular as the content inside.
The Verdict
I found this book to be very helpful, and I would highly recommend it. I would particularly recommend this book to women, especially if they were just starting to read about business tips and tricks, as White gives helpful advice while being entertaining.
For More About Kate White and "I Shouldn't Be Telling You This"
Website: http://katewhite.com
Twitter: @KateMWhite
LinkedIn: https://www.linkedin.com/in/katemwhite
Amazon: http://www.amazon.com/Shouldnt-Telling-You-This-Promotion/dp/006212210X